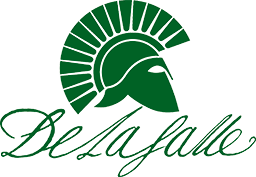 #BecauseDeLaSalle Day
De La Salle High School
Concord, CA
Schoolwide Fundraiser
$0
/ $100,000
#BecauseDeLaSalle...Why? Because De La Salle and our students depend on you!
Donate Now!
Donate by Phone - (800) 986-6128
A message from the Program
On Tuesday, October 22, De La Salle High School will be celebrating #BecauseDeLaSalle Day. 

So why give to De La Salle? We have a simple answer…because.
It is a simple word with many answers. Over the coming weeks and leading up to Tuesday, October 22, #BecauseDeLaSalle Day, we will explain the why.
Follow and share De La Salle High School on social media – Facebook, LinkedIn, Twitter and via our email communications…because!
Your support is felt throughout the school year in the lessons teachers plan each day; the clubs, sports, retreats, productions, and activities the students are involved in; and the tuition assistance a third of our families have received because they need the extra help. Walking onto our campus, you can see your gift in action every day.
De La Salle is a wonderful community of parents, alumni, grandparents, faculty, staff, and friends which serves its students and mission each school year, Because of You.
Join our growing list of donors!