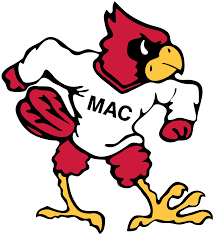 Mineral Area College Athletics Weight Room Challenge #FlyHigher
Mineral Area College
Park Hills, MO
Athletics
A message from the Program
We at Mineral Area College Athletics are conducting our Mineral Area College Athletics Weight Room Challenge #FlyHigher to help generate financial support for our program. Our participants spend many long hours preparing to be the best they can be and are very deserving of your support. We appreciate any amount you can give and thank you in advance for your generous support!
Needs of the Mineral Area College Athletics Program
Your donation will contribute towards expenses required for newer/advanced weight lifting equipment, advanced training protocols, new rubberized floor, small office, new storage room, graphic branding. We also invite the opportunity for donors to name the new Sports Performance Facility and/or other areas of the new facility (i.e.- equipment, tables and Athletic Training) #FlyHigherPart1.

We have outgrown the current weight room and the new facility will offer much more space and headroom. We cannot currently have two teams working out in the current facility at the same time and the relocation will allow us to be more flexible with multiple teams utilizing the space at once. Most of the equipment is from the original wellness center that was constructed in the early 1980's and this campaign will help us purchase newer more advanced equipment to help us better train our nationally recognized athletic programs. Our campaign Goal is to raise $20,000.
The relocated weight room is much bigger and allows for easier, more controlled access directly off the gym floor which will make the new facility a great recruiting tool during games and events.
With your help we can continue to advance and improve our athletics program!
Mineral Area College Athletics Achievements
10 NJCAA Intercollegiate Athletic Teams
21 Region XVI Titles
9 National Tournament Appearances
1 Academic National Championship
100+ NJCAA All-Americans
Update 3 - 11/28/2018
The new weight room and athletic training facility have been finished for sometime now. We were able to extend the rubber flooring a little bit and purchase some new equipment thanks to your generous donations! 
Update 2 - 08/17/2018
The walls are up and we're getting ready for paint on Monday! The process is moving along thanks to General Services but we still need your support to purchase more rubber flooring and a few new pieces of equipment. #FlyHigher 
https://splice.gopro.com/v?id=eALwYJ
Update 1 - 08/01/2018
Phase 1 has started on the Sports Performance Facility. Copy and paste the link below into your web browser to check it out!
https://splice.gopro.com/v?id=WdGXnM
Meet the Team
Join our growing list of donors!